i2P2M is
Revolutionising Management

Transforming Learning to Competency Development

Application at Workplace Measuring Benefits
Documenting Best Practices
i2P2M as a non-profit company is the trend setter in India in providing India's first and only globally acclaimed Diploma in Project Management. It's part-time International Executive Diploma in Project Management (I/EDPM) program was launched in 2011 in association with The George Washington University, School of Business, Washington D.C., USA.

I/EDPM has created a new benchmark in executive education globally as it not only enhances the participant's knowledge but requires extensive report writing and recommendations on how each participant will apply the knowledge gained in their work place. 114+ companies have participated in this Diploma program and reaped rich benefits. Most robust, state of the art technology for Online Executive Education globally, the EDPM Online Class of 2020 was concluded with astounding success having 203 participants from 49 institutions and from 6 countries.
i2P2M also administers 9 leading Project Management Certifications meant for Persons
that are used widely across all sectors of industry.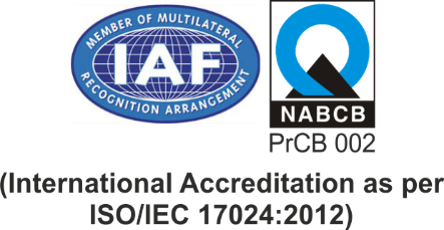 i2P2M is the only Indian company which has international accreditation in project management for it's Certificate In Project Management credential.
IAF- International Accreditation Forum
NABCB – National Accreditation Board for Certification Bodies under Quality Council of India (QCI).
The Certificate in Project Management (CIPM) credential has been acquired by persons across 25 countries. 600+ leading Public sector and private sector companies in India have CIPM certified persons. The training program for the Certificate in Project Management credential is done by training organisations. Candidates need to get minimum of 20 hours of project management training. The CIPM certification is open to all those who are graduates.
Why PM Certification from i2P2M?
In NITI Aayog's report of the Task force on Project and Program Management released in May 2019 it has recommended that the PM certification should cover 7 project life cycle phases i.e. Conceptualise, Plan, Organise, Implement, Control, Integrate, Deliver and Knowledge Leverage. i2P2M is the only institution which is compliant with NITI Aayog's above recommendations.

i2P2M's project management certification exams are based on negative marking of 25% of the maximum marks. i2P2M is the only PM certification body at the global level that has negative marking. i2P2M certification exam is very robust as the paper has 4 sections and candidates have to clear each section independently by scoring minimum 50% marks and score minimum 60% marks across the entire paper. No other project management certification exams operated by other 3 major global bodies has these features which ensures the certification given to candidates is very robust.
Why is the I/EDPM Diploma Program so Unique?
i2P2M follows a unique revolutionary approach to Learning and Development (L&D) that has Transformed Training from an Expenditure to Investment with very High ROI.
i2P2M provides effective Knowledge Acquisition - Knowledge Evaluation and Implementation of the Knowledge at the workplace through it's I/EDPM diploma program.
I/EDPM Program has the following 16 unique features:-
Test Knowledge Acquired Apply new Knowledge Experience Consulting Process Acceptance by Management Competency development to its application at workplace Learn from Success stories of Leaders Research & Learning Articulate your concerns in implementing projects Learning from success stories Evolving best practices for their company Make positive impact to organisation working Recognise excellence and award scholarship Early buying in of the senior management Facilitating implementation (Optional) Communicate and share across alumni network Learn without disturbing office work
---
i2P2M's Technology & Broadcast:
i2P2M has its own studio and provides top of the line broadcast. Multiple cameras used for effective switching between various sources i.e. Speaker, PPT presentation, white board, user interaction etc. enhancing Video Feeds.
Online Sessions:
Students will feel the experience of being in a classroom with convenience of joining from anywhere. High quality PPTs, 2D/3D animations, video clippings, infographics & interactive exercises. Conducted by nationally & internationally renowned faculty.
Online Learning Methodology:
Q&As in each session to ensure participants fully involved. Questions and comments will be uploaded on Cloud and participants can access them. i2P2M digital library will have videos which can be accessed by participants. 100s of practice questions. For modules 1 and 3 on Totality of Project Management and Advanced Project Risk Management, over 200 online questions with answers shall be available for practice and strengthening foundation. Participants will have ACCESS to recorded Lectures and Experience Sharing by eminent global speakers. Reports can be uploaded by the participants after each module within 7 days on i2P2M's cloud space. After doing the home work for each module, participants will have access to the right answers. Automatically, will become a member of EDPM Online Alumni for exchanging ideas and experience sharing.
Report on effectiveness of project management program pre and post CIPM exam assessment
An initial 30 minute test - Project Management Knowledge Quotient (PMKQ) comprising of 20 questions is conducted at the start of the 1st Module of I/EDPM to assess each participants current knowledge and this is later compared with their performance in the 2.5 hour CIPM certifcate exam held after 3 days of extensive training on Eight Project Life Cycle Phases of Project Management which extensively covers all areas of project management. The improvement seen is phenomenal - on average the knowledge domain of all participants goes up by a factor of 2.7 times.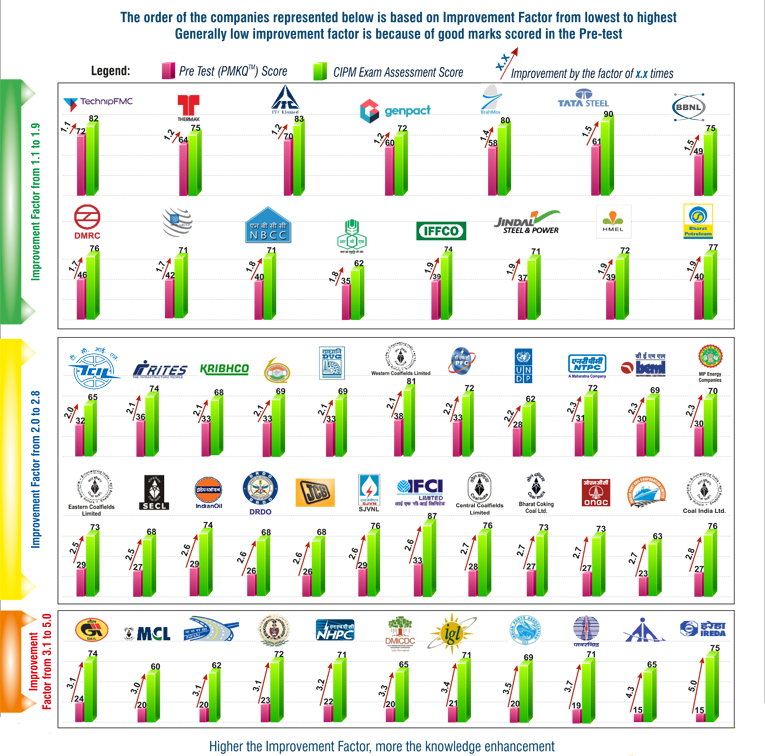 ---