International Institute of Projects and Program Management (i2P2M), a not for profit company incorporated under Section 8 of the Companies Act 2013, is a premier institution dedicated to providing world-class education in Project, Program and Portfolio (P3) Management. i2P2M has set up an Academic Industry Council (AIC) which comprises of eminent persons from Industry, Academic Institutions, Professional Associations and Government. The part time International Executive Diploma in Project Management (IEDPM) and the Executive Diploma in Project Management (EDPM) offered by i2P2M since 2011 is a world class and unique product with 16 Uniqueness which are widely appreciated globally.
i2P2M had begun it's journey in 2011 with the vision to provide the globally best possible executive education in project management to executives and senior managers across all sectors. Since then i2P2M has realized it's vision with astounding success which was possible due to the continued encouragement and support of i2P2M's Academic Industry Council (AIC) members who are stalwarts from Acdemia, Industry and Government. i2P2M is also thankful to industry leaders for sharing their valuable experiences with the Diploma participants.
i2P2M has collaborated with the well known George Washington University, School of Business, Washington DC, USA which is the foremost university in project management discipline in USA for it's I/EDPM program.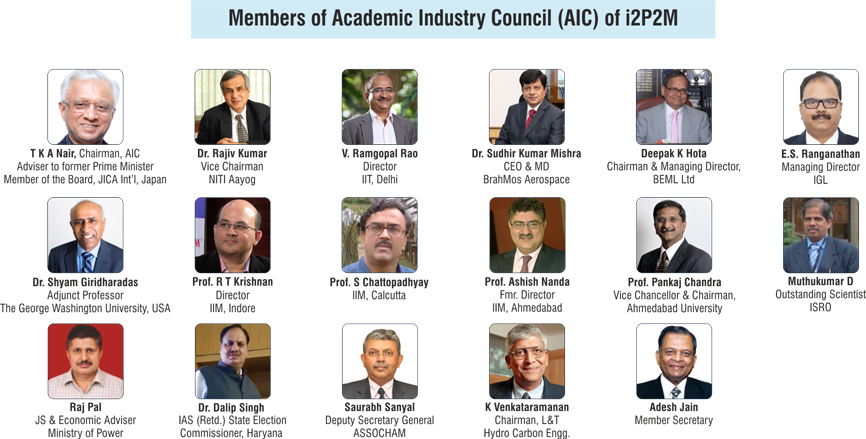 ---
The International Executive Diploma in Project Management (IEDPM) and the Executive Diploma in Project Management (EDPM) is offered by i2P2M in association with:

In addition to the diploma, participants will also acquire the well-recognized Certificate in Project Management (CIPM) and the Certificate in Project Risk Management (CrtPRM). As a certification body, i2P2M deploys the services of its Accredited Training Organisation (ATO), Centre for Excellence in Project Management (P) Ltd. for training in project management. They will also get exposed to the world class Real Time computer based Simulations from Prendo Simulations of U.K. on two key topiics - Project Leadership and Managing Stakeholders. Prendo Simulations are used world-wide by leading Business Schools such as Wharton, INSEAD, Oxford and MIT Sloan as well as leading companies like Google, Goldman Sachs, Shell, Bechtel, Oracle, Petrobras, United Nations etc. These well established Certificates and Simulations add further Value to I/EDPM, thus making this Executive diploma globally unique.
Apart from it's well known part time Executive Diploma programs - EDPM and IEDPM, i2P2M is also administering the following well known Project Management Certifications:
Certificate In Project Management (CIPM)
Intro Certificate In Project Management (IntroCIPM)
Certificate In Project Risk Management (CrtPRM)
Certificate In Earned Value Management (CrtEVM)
Certificate In Agile Project Management (CrtAPM)
Certificate in Project Management Essentials (CrtPME)
Certificate In Agile Project Management (CrtAgPM)
Certificate In Project Management with Specialisation in Road Transport (CIPM-RT)
Certificate In Project Management with Specialisation in Health Care (CIPM-H)