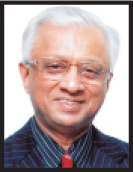 T K A Nair, IAS Chairman (AIC)
A well known and highly respected bureaucrat, he formerly served as Advisor to the former Prime Minister of India, Dr. Manmohan Singh, with the rank of Minister of State. He also previously served as Principal Secretary to former Prime Minister of India.
Mr. Nair has held many important positions including as Secretary in the Prime Minister's Office during the terms of former Prime Minister's of India, Mr. I.K.Gujral and Mr. Atal Bihari Vajpayee and as Chairman of the Public Enterprises Selection Board and Chairman of Kerala State Industrial Development Corporation.
Mr. Nair has been honoured with many awards. In 2015, the Government of Japan conferred on him their prestigious 'Order of the Rising Sun, Gold and Silver Stars' award for his contribution towards promoting Indo-Japanese relations leading to strategic partnerships between India and Japan.
He is on the international advisory board of the Japan International Cooperation Agency (JICA) which is the prime agency of Japan for providing technical and financial assistance to development projects globally.