Why I/EDPM is the best globally!
i2P2M provides the best possible project management executive education globally to executives and senior managers across all industries by inviting the top-notch professional as individuals or representing institutions. One of the many components of I/EDPM program which is related to project management is provided by Centre for Excellence in Project Management (P) Ltd. (CEPM). The Certificate in Project Management (CIPM) is administered by i2P2M. CIPM is the only certification in India which is ISO 17024: 2012 accredited. i2P2M's vision is to equip project leaders, managers and professionals from all sectors to handle the complexity of tomorrow by building their Knowledge, Competency and Leadership through comprehensive learning with its application at their workplace, exposure to best practices, relevant case studies , real time computer based simulation of complex project and leadership scenarios and experience sharing with industry stalwarts. Its objective was to establish itself to be foremost in imparting an International Executive Diploma in Project Management (IEDPM) globally and be a leading project management certification body.
i2P2M has collaborated for its I/EDPM Program with The George Washington University School of Business, Washington DC, USA which is the foremost university in project management in USA.
The George Washington University School of Business (GW School of Business) is the Business School of GWU in Washington, D.C. A top-tier institution, GW School of Business (GWSB) has attracted some of the nation's most outstanding leaders from academia, government and the business world.
Recognized as one of the country's best business schools, GWSB provides scholarly research, teaching excellence and innovative curricula focused on responsible management in the global environment.
GWSB is one of the most prominent schools globally in the field of project management. GWSB has a well known Master of Science in Project Management Degree Program.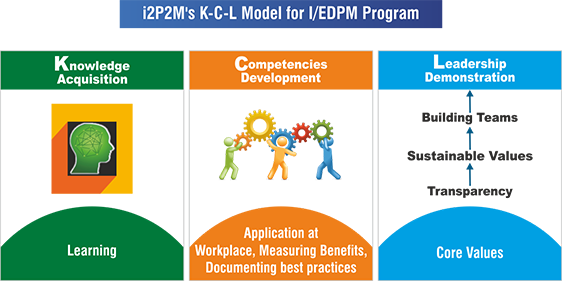 I/EDPM Program is not an Expenditure. It is an Investment with high RoI.
---