I/EDPM is a very robust diploma program with 16 Unique features.


Each participant's organisation obtains concrete benefits by nominating their professionals for the program.
Because I/EDPM has Transformed Learning to development of Competencies to its Implementation and then realization of Benefits.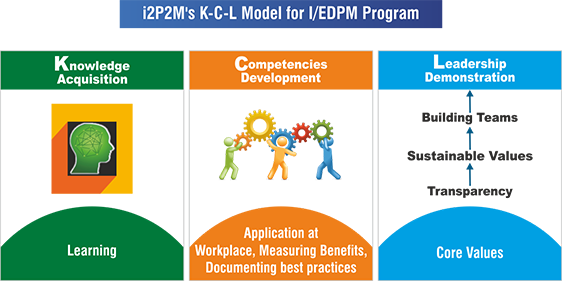 ---
I/EDPM Program at a glance
Managing change is becoming increasingly complex due to rapid technological advances and instant seamless exchange of information globally. Goals and strategies can be successfully achieved through projects. Past experience should be tempered with the future scenario to manage changes pro-actively. We must take decisions consciously considering uncertainties. The challenge in managing projects lies in accelerating the 'rate of reduction of uncertainties'.
Since 2011, i2P2M is offering the globally acclaimed, top-rated, part time International Executive Diploma in Project Management (IEDPM) and the Executive Diploma in Project Management (EDPM) in association with The George Washington University School of Business, Washington D.C., USA.
The IEDPM program is for 17 days spread over 5 months from June to October and the classes are held in India + in USA at the George Washington University, Washington D.C., USA.
The EDPM program is for 12 days spread over 4 months from June to September and the classes are held only in India.
Module 1 to Module 4 are common for both the IEDPM and the EDPM participants.

Module 5 which is a week long study tour to USA is only for the IEDPM participants.
Each module is for 3 continuous days and is held every month generally on Friday-Saturday and Sunday.
Class timings are from 9.00 am to 6.15pm every day.
---
In the Class of 2011 there were 47 participants in the program and the venue for the classes was only New Delhi.
Over 860 persons have already acquired the I/EDPM diploma
For Class of 2019 we expect 200+ participants. Classes are in 3 locations - New Delhi, Mumbai and Bengaluru
---
Another very important feature of the Diploma program is that is that at the end of each Module participants must submit a report outlining their learnings from the module as well what they can include in their workplace based on the module inputs.
Once all the modules are completed a Composite Final Report is also to be submitted by each participant and give some recommendations of some new ideas that can be implemented in their organization to improve it's working. These have to also be presented to their management and approved by their own management before being awarded the diploma. The module details are given below:
---
Module 1 :

Understanding the Eight Project Life Cycle Phases
New Delhi - 14-15-16 June 2019

Mumbai - 21-22-23 June 2019

Bengaluru - 24-25-26 June 2019

New Delhi - 01-02-03 July 2019
Eight Project Life Cycle Phases Course has eight Project Life Cycle (PLC) phases with 36 Knowledge Areas and 119 key Concepts.
There are eight Project Life Cycle (PLC) phases – Conceptualize, Plan, Organize, Implement, Control, Integrate, Deliver and Closeout and Knowledge Leverage. Each phase has been depicted using different colors of varying intensity showing the intensity of the work during that phase.

Some of the 36 Knowledge Areas covered are: Stakeholder Management, Need Analysis, Business Case, Success Criteria, Scope Definition, Time Management, Cost & Finance, Project Management Plan, Roles & Responsibilities, Risk & Opportunity, Procurement, Quality, Information Management & Reporting, Contract Administration, Communication, Organization Structures, Leadership, Motivation, Conflict Resolution, Team Performance, Negotiation, Change Management, Issue Management, Problem Solving, Internal & External Interfaces, Health, Safety and Environment, Project Closeout, Post Project Evaluation, CSR, Agile methodology etc.

"What makes Certificate In Project Management (CIPM) program world class is its comprehensive syllabus covering 8 projects life cycle phases, 36 knowledge areas and 117 concepts with an extremely robust certification process. I myself have gone through the CIPM and in my opinion, it should be a pre-requisite for all PM professionals globally"
Prof. Dr. B. Nag IIM Calcutta (2015)

"Certificate In Project Management (CIPM)" is unique and should become a must for professionals of an enterprise to create a common vocabulary"
Dr. Hiroshi Tanaka, President, Project Management Association, Japan and PM Advocate of JGC Corpn.(2007)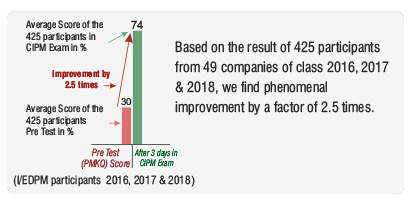 "At the end is module, participants will appear in a comprehensive 2.5 hour objective examination leading to the Certificate In Project Management (CIPM) Credential. The exam has four sections covering the 8 projects life cycle phases. Candidates have to clear all the four sections independently. CIPM exam is most robust with 25% negative marking. Globally it is the only certification exam with negative marks for wrong answer making it the most robust PM qualification. "

---
Module 2: Computer Based Real Time Simulation Project and Experience Sharing Paltform
New Delhi:

12-13-14 July 2019

Mumbai: 19-20-21 July 2019

Bengaluru: 26-27-28 July 2019
PM2A: Real Time Simulation Workshops from Prendo Simulations Ltd (12-13 July in New Delhi, 19-20 July in Mumbai and 26-27 July in Bengaluru )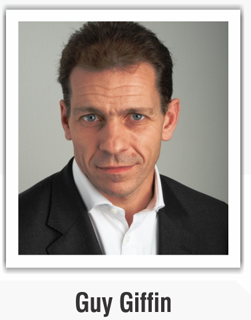 With specialisation in simulating the challenges of leading complex projects, Prendo's simulations are used at many of the world's top business schools, including Columbia, IMD, INSEAD, MIT Sloan, Oxford/Said and Wharton.

Guy Giffin, Director, Prendo Simulations will be lead faculty for the workshops. Guy has delivered hundreds of simulation workshops in over 30 countries around the world, with organizations including: Bechtel, EDF Energy, Gazprom, Goldman Sachs, IBM, Morgan Stanley, Oracle, Petrobras, Shell and the United Nations. He teaches on various MBA, EMBA and executive programs at Cambridge, Columbia, MIT Sloan, etc.
Why Simulate?
Traditional teaching methods combined with real time simulation programs is again one of the major strengths of I/EDPM program in making learning effective and meaningful to organisations.
Leadership face many challenges in the modern world, including working with increasing levels of complexity and ambiguity, accelerating levels of change and uncertainty, as well as ongoing pressure to act responsibly and ultimately, to create value. The most powerful learning method to address these many challenges is advanced simulation, because participants must take the decision and see the consequences.
Lectures & slide presentations, books, articles, & papers are effective ways of sharing information. Case study discussions go further, but still don't force participants to take decisions or see the consequences. None of these methods provoke any memorable emotional reaction. The next generation of leaders in particular are increasingly combining learning to competency development to implementation at workplace to make their organisation competitive. i2P2M provides this platform by offering I/EDPM program.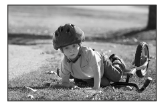 People learn by doing
Complex skills can only be developed by (a) making decisions or taking actions, (b) experiencing the consequences, and then (c) figuring out what happened and why, and then repeating the process, i.e practising.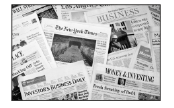 Simulations are better than real world experience
In contrast with using real projects and real organisations as their practice grounds, when mistakes can be very expensive, simulations are faster, lower risk, lower cost, and crucially, more effective because they make the link between cause and effect easier to see.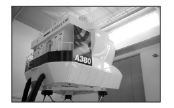 Simulations are essential in many professions
Pilots, military strategists and surgeons, for example, have long understood the importance of simulating their activities in order to improve their performance and reduce the risk of failure in the real world.
Five Participants form a Team. The aim at the end of each simulation program is to excel in key performance indicators (KPI). i2P2M Trophy will be given to one of the expected 45 teams which scores the highest marks in 2 Simulation programs
PM2A: Real Time Simulation on Leading Organisation Change (12 July in New Delhi, 19 July in Mumbai and 26 July in Bengaluru )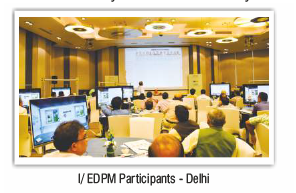 Prendo's 'MUTARI' real time simulation on Leading Organisation Change provide an intense, risk-free experience in dealing with complexities in managing change across the entire organisation. There are those who would oppose change and would like to preserve the 'status quo' and others who would visualize future and lead the necessary change to achieve so. It is a painful process to bring change in an organisation but has tremendous gains. Simulation provides great insights in aligning various stakeholders. In 4 to 5 hours in real time simulation mode, you gain 1 year of real experience. It is an intense, but risk free experience that will help participants develop skills in the key topic areas as listed below with learning outcomes.
Key Topics
Leading Change
Implementation Strategy
Decision Making
Influencing Skills
Post-merger integration
Communication Strategy
Learning outcomes
craft a change management strategy
optimise a post-merger integration plan
overcome resistance to change
map & use influence networks
develop detailed stakeholder analysis
balance economic and human value drivers
analyse the full range of human interests & motives
maximise value of business change
PM2B: Real Time Simulation on Project Leadership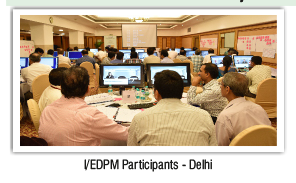 Prendo's 'SPATIUM' real time simulation on Project Leadership provides an intense, risk-free experience of managing a complex project. It is a mind boggling experience that one goes through. In 6 hours, you gain 3 years of experience. The "3 years in 6 hours" real time simulation will take you across all the project life cycle phases which in real live situation will take 3 years from planning to completion. Often, a team member does not get an opportunity to work from the stage of conceptualization to project closure. Great opportunity for the participants of IEDPM Program. Top Business schools and world fame companies regularly use these simulation programs to build competencies in managing projects and programs. Developed in collaboration with the Major Projects Association, Prendo's Spatium simulation presents participants, typically organised in teams, with a challenging mission. It is an intense, but risk-free experience that will help them develop skills in the topic areas below.
Key Topics
Advanced project management
Managing risk & uncertainty
Teamwork
Implementing Strategy
Stakeholder management
Complexity & ambiguity
Learning outcomes
define project success
analyse and manage risks
manage the early stages of a project
judge stakeholder-driven trade-offs
develop an optimal contract strategy
juggle & integrate multiple disciplines
plan & control a project
take decisions in a complex scenario

In contrast with using real projects and real organisations as their practice grounds, when mistakes can be very expensive, simulations are faster, lower risk, lower cost, and crucially, more effective because they make the link between cause and effect easier to see.


PM2C: General Conceptual Framework of Generic Project Management Maturity Assessment Models (14 July in New Delhi, 21 July in Mumbai and 28 July in Bengaluru )
It is inevitable that all strategies use projects as a vehicle to reach their final destiny in bringing business change. Increasingly many businesses recognise project management as a core key competency and seek to realise visualised benefits as envisaged in strategies. But how can an organisation know whether its project management processes are adequate? Can we create a benchmark in the assessment of organisation's project management maturity as to know where we currently stand and what we need to do to realise the full scale of benefits of strategy implementation.
A presentation will be made covering the state of the art in PM Maturity Assessment processes. Some of the 12 attributes to be dicussed are: Organisation Structure, Customer Focus, Role of Supporting Functions, Project Management Processes, System Culture, Planning Control Horizon, Early Warning System, Formulation of Goals & Strategies and Project Success Criteria.

This would be evaluated against the well known 6 levels of maturity levels i.e. 1. Adhoc 2. Ritual 3. Compulsive 4. Leadership 5. Visionary 6. Passion. Adhoc is lowest level at 1 and Passion driven is the highest at level 6.
PM2B: Experience Sharing Session

We invite leaders from industry to share their success stories in implementing their projects with excellence. The uniqueness of this Experience Sharing Session is open dialogue between a resource person and the participants.

Since 2011, in this ESP, we have invited over 50 to-notch management gurus from different disciplines from India and abroad to share their success stories and wisdom so gained.

Report on Module 2 - PMR2: Is must and should be written by participants suggesting changes in their own work environment in managing stake holders, Project Leadership and based on their interaction in experience sharing platform. This is one of the 16 Uniqueness of I/EDPM program to write a report after each module.

Target date for submitting the above report is 5th August 2019 for New Delhi participants, 12th August 2019 for Mumbai participants and 18th August 2019 for Bengaluru participants..
---
Module 3: PM3 Advanced Project Risk Management, Organisation Risk Management Maturity Assessment and Experience Sharing through Case Studies
New Delhi:

17-19 August 2019

Mumbai: 23-25 August 2019

Bengaluru: 29-31 August 2019
PM3A: Advanced Project Risk Management

Adesh Jain, Chairman, i2P2M holds a Bachelor of Electrical Engineering from the Indian Institute of Science, Bangalore in 1965 and Masters of Engineering from Canada. He worked in the fields of artificial intelligence and large scale computing in North America.

On his return in 1973, to India, he was deeply involved in shaping the IT Industry. In 1991 he was conferred the prestigious CSI Fellowship award in recognition of his contribution to strengthen IT in India. In 2005, he became the first and is till date, the only non-European to have been President of International Project Management Association in its history of 54 years. In 2006, he became the Honorary Chairman of China Construction Project Management Committee (CPMC). He was invited twice to give presentations at the NASA PM Challenge Conferences in 2010 and 2012 on 'Breaking boundaries - the key to innovation' and Awakening of project consciousness through stakeholders buy-in' respectively.
He is Member of the Task Force on Project Management set up by NITI Aayog in 2018. He was Independent Director of NTPC from 2009 to 2012. He specialises in Project & Program Risk Management.
Recognizing his global contribution in project management, Government of Turkey released a postal stamp in his honor in November 2010.
In 2014, he was conferred the Life Time Achievement Award for his dedication to create a project oriented India. He is often referred to as Bhishma Pitamah of Project Management. In Short, he is a visionary leader shaping the PM profession globally.
Projects are taken up to build the future and have many uncertainties. Risk is, therefore, at the center stage of managing projects. Risk Management is 50% of Project Management. Diverse interests of stakeholders contribute significantly to project risks. Along with Advanced Risk Management Concepts some success stories in managing risks will also be covered in this module. As shown in Figure-1, Risk is Everywhere (RIE). Risk is uncertainty that matters.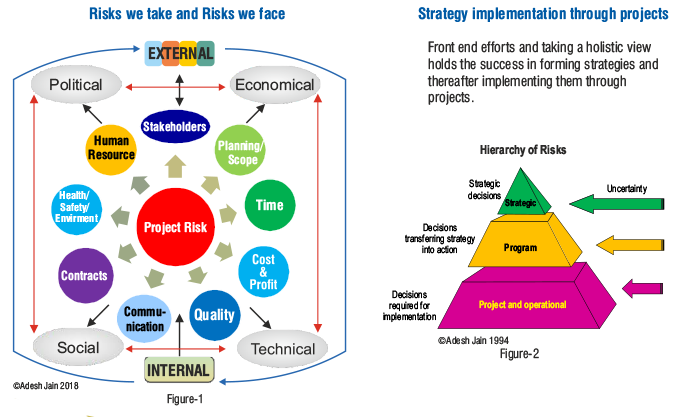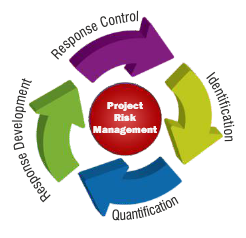 The Advanced Project Management covers:

4 types of Uncertainties - Stochastic (possible events), Aleatory (variability), Epistemic (ambiguity) and Ontological (blind spots) and their linkage to risks.
Enterprise Risk Management Models - COSO, ISO 31500, IRM
Risk Identification and Categorisation - Tools and Methodologies
Risk Evaluation and Quantification
Possible Risk Response and Mitigation Strategies
Risk Appetite, Thresholds, Attitude and Culture
Risk Control Processes
Complexity of Projects and Emergent Risks in the age of Technological Disruptions
Certificate in Project Risk Management (CrtPRM) Examination
Since the launch of CrtPRM credential in 2011, as on date we have over 1100+ professionals from 100 companies across all sectors with CrtPRM certification. India is one of the few countries where we have specialised certificate in project risk management.
At the end of the second day, a comrehensive 2 hr exam will be administered by i2P2M leading to CrtPRM certification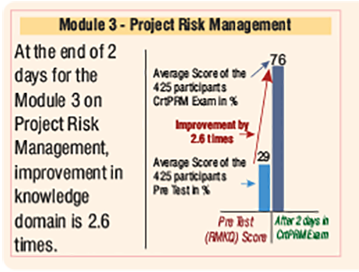 We conduct a 30 minute test - Risk Management Knowledge Quotient (RMKQ) comprising of 20 questions at the start of the 3rd Module on Risk Management to asses each participants current knowledge in risk management and then compare this with their performance in the 2 hour Certificate in Project Risk Management (CrtPRM) exam after 2 days of Risk Management training. There was phenomenal improvement by a factor of 2.6 times.
PM3B: Organisation Risk Management Maturity Assessment
To thrive and beat the competition a risk mindset is must at all levels of management. Our actions today impact the future that is uncertain. To reduce uncertainties, we must follow formal risk management processes. We need to evolve a methodology in the assessment of organisation's risk management maturity as to know where we currently stand and the steps needed to move up to the next level.
The details of one of such risk management maturity assessment models will be discussed in this module. The nomenclature of the six levels are generic and seamlessly integrated to general management. The sample spider diagram shows a current maturity level of 2.5 against the highest level of 6 and falls between Ritual and Compulsive levels.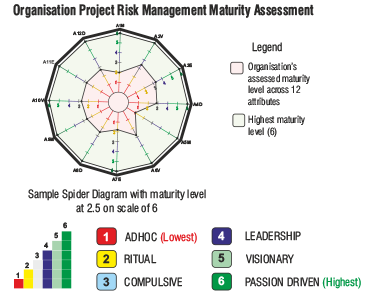 Some Risk Management Attributes are:

Understanding of risk management processes
Application of risk management processes
Identification and assessment across the project life cycle
Who drives success in implementing risk management processes
Organisation Structure of ERM
Risk triggers
Acknowledging Risks
Lessons learnt in managing risk management
Transparency
Commnications
Risk Culture and Appetite
Human factors in risk management
PM3C: Group Deliberations
Before the start of Module 3 on Project Management , each participant is required to go through two articles on risk management relevant to their company business. Groups will be formed on the basis of companies. Participants would assess their organisation risk management maturity based on the 6 level of risk management maturity. Faculty will assist the deliberations. The findings will be discussed amongst the participants and will be sent to the management of participating organisations.
PM3D: Experience Sharing through Case Studies

Case Studies related to risk management will be discussed by the participants based on their organisation's projects.

---
Module 4 : Advanced Project and Program Management Concepts (Complex PM, Contracts and Procurement, Estimation and Cost Management, EVMS, Project Mindset, Human Capital Management, Agile Methodology and Selected Case Studies)
New Delhi - 08-10 September 2019 (Sun to Tue) Combined for Delhi, Mumbai and Bengaluru
In the ultimate analysis, goals drive strategies. Strategies can be delivered through projects. Strategies fail due to its weak link with project management. The social context is increasingly becoming a major factor in implementing projects. Stakeholders buy-in is the essence in starting a project all the stakeholders. In this last module, we will covering the latest trends in managing projects, programs and portfolios.
PM4A: Advanced Project Management Concepts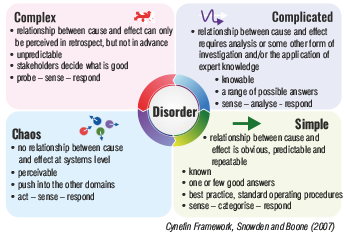 In simple terms, complexity is in dealing simultaneously with large number of stakeholders with their own specific expectations that are often contradictory and aligning the same for the visualised benefits expected at the completion of a project. The greater the number of interfaces, more it becomes complex. In today's Volatile, Uncertain, Complex and Ambiguous (VUCA) environment, decision making is becoming more involved & holistic. Complex project involves uncertainties, ambiguities, dynamic interfaces, political and external influences, integration at diverse locations, technology life cycle considerations, managing complex human behaviors etc. A simple project could become complex and then out of control resulting into 'Fire Fighting'. An outline of defining complexities and 'how to deal with complexities' shall be discussed in this sub-module.
Simple projects could become complicated and then complex and finally end up in Chaos Mode. We need to take full cognizance of the fact that with increased complexities in human related activities, only 40 to 50 % projects are completed as per their KPIs, Effects of complexity are most apparent in non-technical areas of influence and Capacity to manage complexity is identified as the No. 1 issue for CEO's globally. It is said that Organisations that manage complexity well outperform those who don't by a factor of 10 by managing projects as Complex Adaptive Systems.
PM4B: Contract and Procurement Management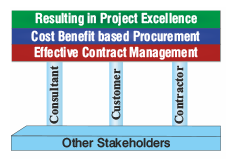 Contracts and procurement's at the centre stage of project implementation. Well defined strategies must be worked out prior to undertaking of projects to ensure smooth relationship amongst Customers, Consultants and Contractors (C3). All of them must be passionately involved in completing the projects with ownership mindset. For companies in any industry, smart procurement practices are essential for ensuring efficient operations and an optimal bottom line. Organisations in both public and private sectors are facing increasing pressure to reduce costs and improve financial and operational performance. New regulatory requirements, globalization, increased contract complexity have resulted in an increasing recognition of the importance and benefits of effective contract management this will cover topics like.
Key issues in tender formulation
Handling and award of contracts in Indian context
PPP Models
Procurement strategies including eProcurement
Types of contracts
Challenges in administering contracts
PM4C: Project Cost Management - Estimation Contracting

Prof. Homayoun Khamoshi: Ph.D. in Management Science Lancaster University, 1994 is Chair of the internationally known Master of Science in Project Management in George Washington University School of Business. Area of Expertise: Project Planning and Scheduling and Management and Simulation. At the end of this module participants will have an understanding of various elements of estimation techniques along with cost management with implications to contracting. The participants should be able to:
Differentiate between project and program Cost objectives and how these are used to assess the success and failure of projects and programs.
Understand the foundation of cost estimation of projects.
EVM as an effective performance management system in managing system technical projects and portfolios.
Design and develop am appropriate control system for managing costs.
PM4D: Agile Methodology - The Key to Project Success in Changing Environment

"Intelligence is the ability to adapt to change." - Stephen Hawking Do you manage a project where scope is not well defined? Or where customer comes up with new requirements too often? May be Customers or end not sure what they want. Agile is all about adapting to change. It was built on the founding principle that business drivers will change and the project teams must be ready to adapt. Agile practices are about focusing on delivering the best thing possible in a set time period. Agile is about doing as opposed to being paralyzed by over-planning. In agile you get the minimal necessary requirements and start working. It is designed to stimulate innovation through people, process and product features and focuses on continual improvement to do it better. Some topics covered are:
Agile manifesto & principles
Agile Knowledge and skills
Agile tools and techniques
Plan and monitor a project based on agile methodology
PM4E: Project Mindset

The word 'Project Mindset' was coined and introduced by Adesh Jain in August 1999 in Stockholm, Sweden while giving a one day seminar on "Project Mindset - the Key to Competitiveness". In last 20 years, lot of development has taken place in refining the conceptual framework of 'Project Mindset'. A thought provoking presentation will be given to the participants with the latest conceptual framework of role of Project Mindset in Managing Projects.
Some of the 28 governing principles of Project Mindset are:
'Whole' first and 'Part' later
Success beyond profit
View end first before start
Enterprising and innovative and not based on fixed rules
Dream precedes awakening
Master of situations and not its puppet
Dynamic adaptability over rigidlity
New and not just repeat encounters
Believing in discontinuity
Breaking boundaries side by side of creating boundaries etc.
Welcome versus rejection of new ideas
20:20 vision along with reading glasses
Comfortable in all situations
Anti credentialist
PM4F: Earned Value Management - The Effective Way of Project Monitoring & Control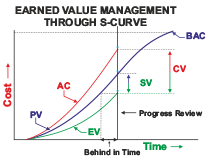 EVMS measures project performance by examining cost and schedule variances concurrently enabling a holistic view of project against the project plan. It measures what you have "achieved" against what you had "planned". The schedule performance efficiency is measured by comparing the Planned Value (PV) with Earned Value (EV), i.e work performed as on the date of review, The ratio of EV to PV is the Schedule Performance Index (SPI) reflecting the performance efficiency. The Cost performance efficiency is measured by comparing the Earned Value (EV) in terms of the cost to Actual Cost (AC) i.e, the money spent as on the date of review for the completed work. The ratio of EV to AC is the Cost Performance Index (SPI) reflecting the Capital efficiency. EVMS equips you with the much needed tool to monitor and control your project at pre-defined milestones and take corrective actions. It checks the "health" of your project periodically and tells you about the early "warning signs". You might save your project from failure if you take timely actions from the early warning signs.
PM4G: Human Capital Management
This brain area is known to be intimately involved in some of the most advanced planning and decision-making processes that we think of as being especially human. Human Mind is responsible for thoughts, desires and emotions unique to each individual. Intellect without emotion and emotion without intellect are both incomplete.

The E4 approach as shown below is unique for individuals. This is why human mind is the Most Complex System to Manage. It is the dynamic capacity of human mind which needs to be nurtured and managed. Human Capital Management is second most toughest thing next to winning the race against TIME. Every person in the world has a unique E4 - Education, Experience, Emotions are Expectations which impacts their interaction in society and in managing projects. The challenge for planning and implementing projects, programs and portfolios is to integrate different E4s to supplement each other. This is the kernel of Human Capital Management.

PM4H: Discussion on Case Studies / Recommendations

Covering following sectors 1. Infrastructure 2. Oil & Gas 3. Power 4. Defense 5. Manufacturing 6. Information Technology We discuss complex case studies relating to application of best practices in managing projects and programs. The Leaders who have managed complexity with a great track record, will share their thoughts in this one day program. This is a most beneficial day as it covers all the knowledge gained to its application in real life by understanding the competencies, demonstrated by successful leaders.

---
Module 5 :

The George Washington University, GAO & Site Visits
PM5A: The George Washington University School of Business (Washington D.C. 14-18 October 2019)
Leadership Development
(14 October 2019, 0930-1230hrs)

Prof. Shyam Girdharadas: is a Visiting Assistant Professor of Management for The George Washington University School of Business (GSWB). After 25 years of experience in top management consulting at McKinsey & Company and Prism Consulting International.
Are Leaders born or cultivated ? This question is frequently asked since Last many decades. By and large the consensus is in combining the two. Shyam with his enormous experience in leadership development would cover the major aspects in leadership development. At the end of this module, participants will learn the major attributes of a leader, authentic leadership and challenges in becoming leaders in one's own right. Authentic leadership is the master key to integrate multi cultural teams with diverse background.
Strategic Development
(14 October 2019, 1330-1630hrs)

Prof. Homayoun Khamooshi: Ph.D. in Management Science Lancaster University, 1994. Is Chair of their internationally known Master of Science in Project Management Program. Area of Expertise: Project Planning and Scheduling, Project Risk Analysis & Modeling.
SPM is the process of managing complex projects by combining business strategy and project management techniques in order to implement the business strategy. Strategic Project/ Portfolio management is a coordinated collection of strategic processes and decisions that together enable the most effective balance of organisational change and business as usual (OGC PIM Guide).
Strategic Project Management is all about the 'change' that can be brought through projects. Participants will learn the intricacies of connecting SPM to projects and portfolios.
Executive Decision Making
(15 October 2019, 0930-1230hrs)

Prof. Ernest Forman: D.Sc.; The George Washington University. 1975 and MS, John Hopkins University, Area of Expertise: Decision Making; Resource Allocation and Forecasting Current Research: Executive Decision Making & Project Portfolio Management.
At the end of the module participants will have a good understanding of concepts and methods for making complex decisions in business and government for identifying objectives and alternatives; for setting priorities and for making group decisions. The candidates should be able to: Structure complex decision problems, Identify alternatives, Identify constraints, Investigate sensitivity of decisions, Communicate recommendations and rationale, Deal with group decisions and conflict.
Systems Thinking in Project Management
(15 October 2019, 1330-1630hrs)

Prof. Sanjay Jain:is an associate industry professor in the Department of Decision Sciences at the School of Business at the George Washington University (GW). At GW, he teaches graduate classes in the MS programs in Project Management and Business Analytics, and in MBA.
At the end of this module, participants will able to link conceptual framework of system thinking to effective project planning and execution. With the vast experience of the faculty, he would be able to give case examples of the successful projects to its interconnectivity with the system's thinking. One of the characteristics of system thinking is to link the 'whole' with 'parts' with constant feedback mechanism for taking corrective measures. System thinking also produces a common denominator for team players to plan and execute projects effectively & efficiently.
Procurement and Contracting
(16 October 2019, 0930-1230hrs)

Peter R. Easley, Esq - The World Bank, Washington DC. He is the senior Procurement Officer in the World Bank and a well known authority on Procurement and Contracting management. He is widely traveled with rich international experience.
At the end of this module participants will have a good understanding of procurement and contracting and its impact on success of the project. The candidates should be able to: Discuss procurement and contracting processes and principles , Explain and critically evaluate the contract administration issues including contract terms , issue management , cost management, change order management , Understand programs, planning, sourcing and contractual design for diverse acquisition, Understand the concept of negotiation for contracts and modifications.
Advanced Supply Chain Management
(16 October 2019, 1330-1630hrs)

Prof. Shivraj Kanungo: Ph.D.; The George Washington University, 1993 and MS Southern Illinois University, Area of Expertise: IT Management; Software engineering; IS evaluation. Modeling approaches in Supply Chain Management; Optimization of Cost and Service.
At the end of this module participants will have a good understanding of designing and implementing an effective supply chain system. The candidates should be able to: Modeling approaches in supply chain management , Optimization of cost and service , Alternatives available to the manager given the economic situation , Competitive conditions, Regulatory environment of the several transportation modes , Model location theory and logistics network and planning and design..
PM5B: Interaction with Senior Government Officers, Business Leaders and Site Visits