i2P2M has an Academic Industry Council (AIC) that guides it's academic programs. The AIC members are leading persons from academic institutions of India and abroad, stalwarts from industry, government, R&D and representatives of Associations.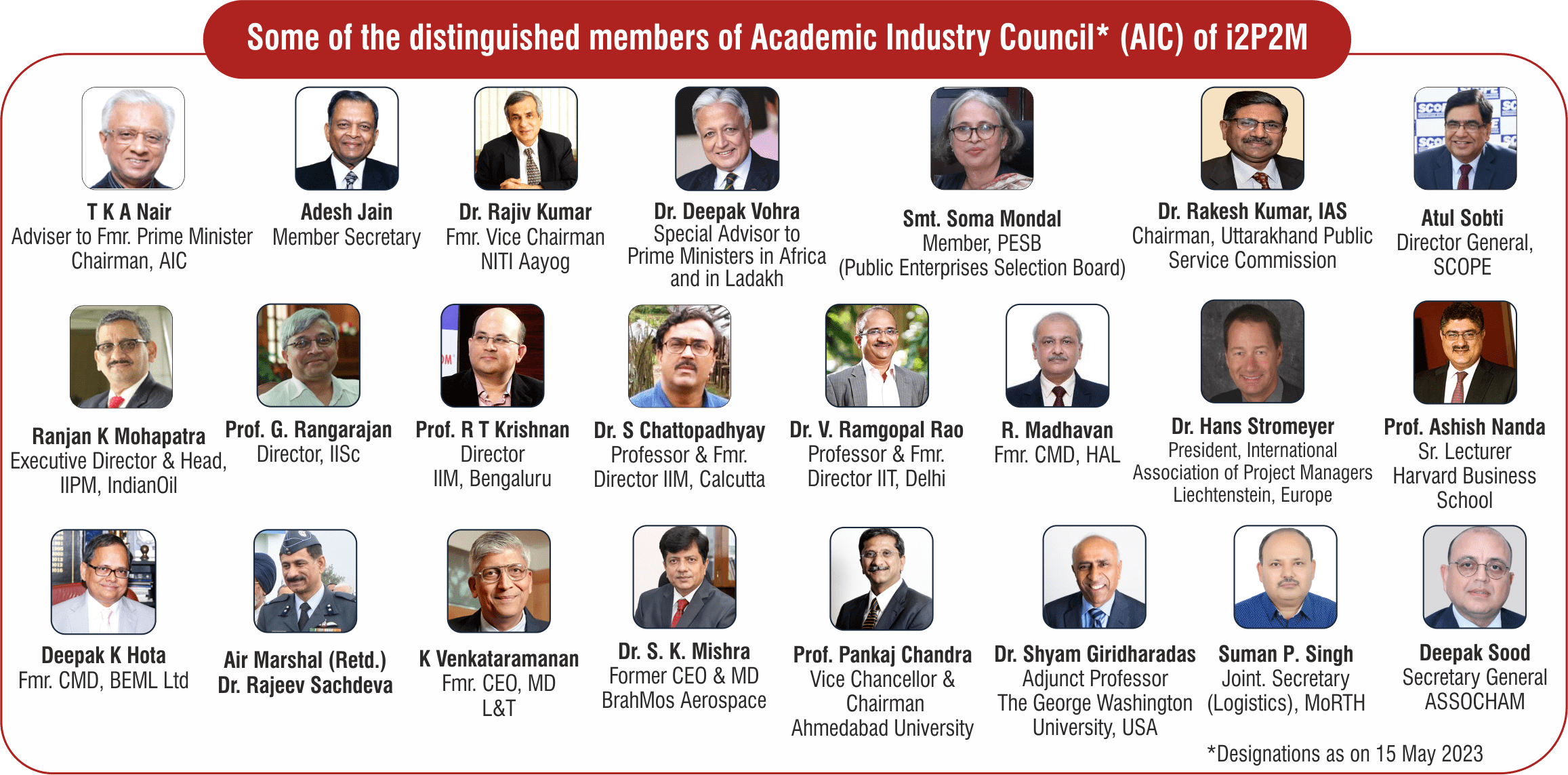 ---
From 2008-2010, Adesh Jain
was the Chairman of the Academic Industry Council. Often referred to as 'Bhishma Pitamah of project management' he was conferred the Lifetime Achievement Award in 2014. A global PM visionary, his stamp was released by government of Turkey in 2010 in recognition of his global contribution in strengthening project management.
In 2011, Dr. Nitish Sengupta, IAS,
a well known academician, administrator, politician, author and Director General, International Management Institute (IMI), New Delhi became the Chairman of the AIC. He was the Chairman until his untimely demise of cardiac arrest on 3 November 2013. Under his chairmanship the I/EDPM diplomas were launched by i2P2M. Earlier Dr. Sengupta had held positions such as the Revenue Secretary of the Government of India and Member Secretary, of the Planning Commission. He also represented India at various UN bodies and was the Chairman of the UN Commission on Transnational Corporations. He was elected Member of Parliament of the 13th Lok Sabha, where he served as member of several key committees, notably the Public Accounts Committee. Later he was Chairman, Board of Reconstruction of Public Enterprises. i2P2M is grateful to Dr. Nitish Sengupta for leading the AIC and the I/EDPM diploma programs as it's Chairman.
Since 2014 onwards, TKA Nair,
a renowned administrator, who was Advisor to Former Prime Minister of India with the rank of Minister of State is Chairing the AIC. He also previously served as Principal Secretary to former Prime Minister. Currently he is a member of the board, JICA International, Japan.
---