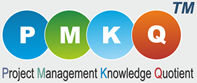 Checks your current Project Management knowledge using the powerful, widely used Project Management Knowledge Quotient (PMKQ)™
is developed by the project management training organisation – Centre for Excellence in Project Management (P) Ltd., (CEPM).
Project Management Knowledge Quotient (PMKQ)™ is a special assessment tool that measures your depth of understanding in project management and provides a unique opportunity to know your current strengths and weaknesses in project management.
Knowledge is the single most key ingredient in managing complexities of 21st century. Like Intelligence Quotient (IQ), Emotional Quotient (EQ) or Spiritual Quotient (SQ), PMKQ™ measures the Knowledge Quotient in the field of project management. We must know where we are and understand the knowledge gaps before we can take effective corrective measures.
Though we gain experience over time, our knowledge gets outdated and needs to be regularly updated to be in line with the latest trends worldwide. Executives and managers especially in projects often believe that they have adequate knowledge of the various contemporary concepts of project management and thus do not need to further upgrade their knowledge base. Project management especially is a growing discipline and this assumption could be disastrous for the organization.
PMKQ™ is a small step in helping people and organizations to see where they stand, identify their weak areas and identify the areas for upgrading their knowledge base.
The PMKQ™ assessment Test has 48 questions
that covers 8 Project Life Cycle phases, 21 Knowledge Areas and 30 PM related Concepts.
PMKQ has been designed, developed and is owned by our Accredited Training Provider, CEPM. A PMKQ assessment test is regularly used by CEPM at the start of each training conducted by them.
PMKQ™ concepts are a breakthrough first of it's kind in organization effectiveness in imparting project management training. It is the first such assessment tool launched globally in 2009 by CEPM. The major emphasis of this product is to know where we stand in terms of our current project management knowledge with reference to project life cycle (8), knowledge areas (21) and at conceptual framework level (30) before taking any corrective actions to plug in weak areas with appropriate training programs. It is like going for a medical test annually to check various health parameters before taking medicine to plug the deficiencies.
A wide range of innovative reports are made available using the assessment data based on performance of individuals, departments, Projects, and Regions within a company or a Company as a whole and thus can analysis to understand the strengths and weaknesses at regions/projects/functions/ individuals level.
Some sample reports based on a actual company wide assessment of 1000+ persons in a leading project based company.
The scores shown is on a scale of 0 to 10 with 10 as maximum.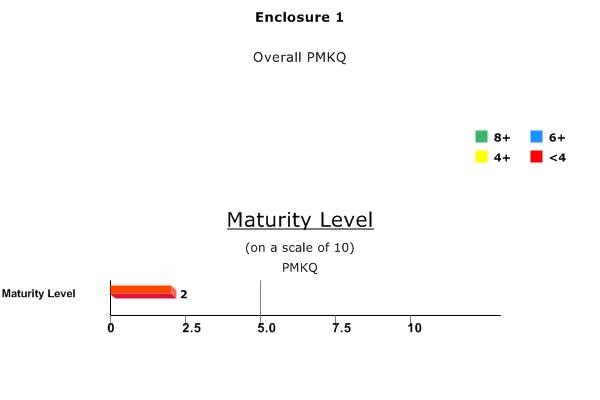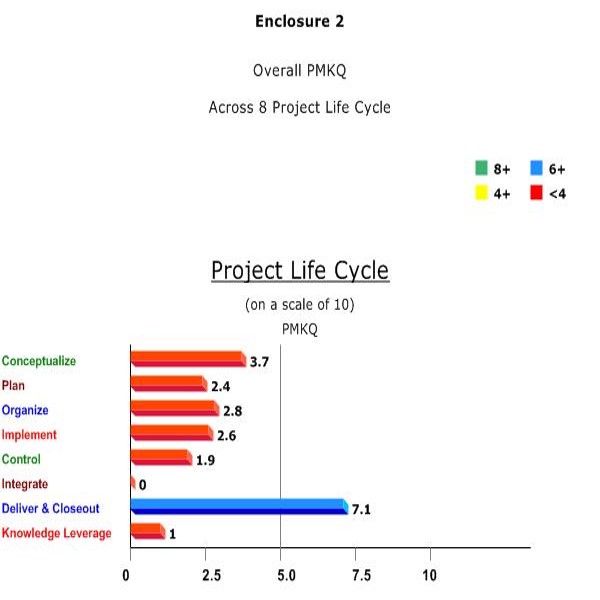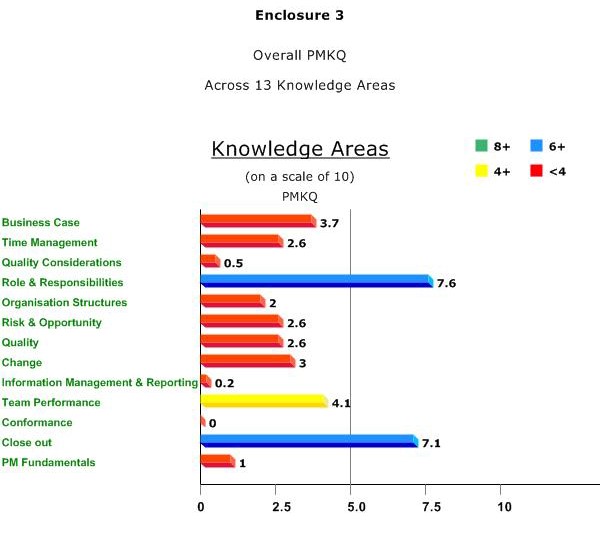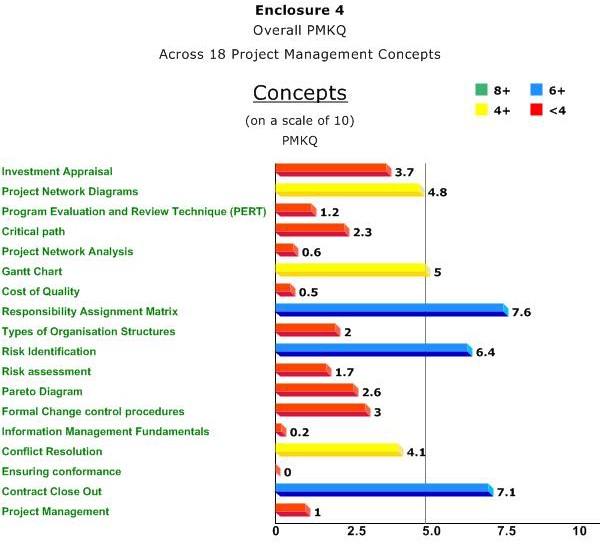 The 1st Module of I/EDPM is on the Totality of Project Management credential which extensively covers all areas of project management. At the start of the training, a 30 minute PMKQ test is taken to assess each participants current PM knowledge. This score is the compared with their performance in the 2.5 hour CIPM certificate exam held after 3 days of extensive training. A similar PMKQ assessment is taken in the 3rd Module of I/EDPM which is on Risk Management.
The following results are for the Class of 2016 and 2017 with 237participants from 48 companies.
The improvement seen is phenomenal - on average the knowledge domain of all participants goes up by a factor of XX times as shown below.